Venus in the Heat Shadow
From Show Card:
Venus in the Heat Shadow is a site-specific installation that takes archaeological clichés and places them onto a modern day BBQ party. Fertility, astronomy, and ritual become conflated with symbols of contemporary recreation like hammocks, spits, and charcoal. The exhibition critiques archaeological interpretation, informed by the artist's experiences as an archaeologist.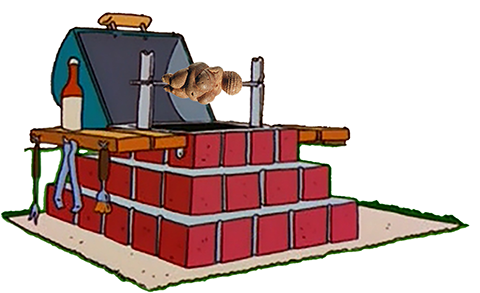 When I was a kid my mom read me the book "Motel of the Mysteries" by David Macaulay, which is about archaeologists from 4022 finding the remains of our current culture, and interpreting freeways as signals to aliens and toilet seats as "sacred collars", etc. When I was an archaeologist in 2007 I was taught to interpret the forms of ancient artifact's to be referencing breasts (mammiform), that all representations of women in ancient art were symbols of fertility (Venuses), and that all figures with breasts represented females. The "Venus of Wilendorf", which is often interpretted as a fertility object, is collaged with a BBQ image as a critisism of contemporary biases in archaeological interpretation. The artifact has also been theorized to be a self-portraif of it's creator looking down at themselves.
Video Walk-through: